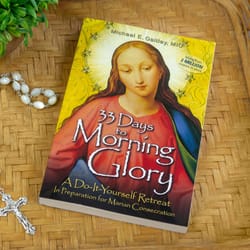 I first heard about
"33 Days to Morning Glory"
by Fr. Michael E. Gaitley, MIC, at the Columbus Catholic Women's Conference in February. I had heard of Marian Consecration before, but it had always been discouraged in my family. I am not sure why, but my dad had always had a very negative association with Marian devotion. When the Blue Army came to my parish and spoke to the school children about the miracles of Fatima and the necessity of praying the rosary daily, he pooh-poohed the whole notion and told me that those people just wanted to worship Mary and had forgotten all about Jesus. Of course, as a child, I believed him and devotion to Mary was never a part of my spiritual life until after I was married. Now, many years later, my father and mother have both come to a new place in their journey and the rosary is a very important part of their prayer lives, now. But, still, the scars have remained.
I had tried to read St. Louis de Monfort's "True Devotion to Mary" when I was in my twenties, but all those voices from my childhood about "worshipping Mary over Jesus" put me off of the task and I left de Monfort behind.
Fast forward 20 years: As a committed Catholic woman, I was looking for a way to more solidly and firmly anchor myself to Our Lord and the description of Marian consecration, seemed like the perfect fit. After all, what better way to become a faithful follower of Our Lord, than by imitating his most perfect follower: Our Blessed Lady? This made a great deal of sense to me. So, I bought the book.
Fr. Gaitley's book had promised to be an updated look at Marian consecration, that began with the ideas of de Monfort and followed his 33 day preparation schedule with an updated consecration formula. Then the book was to continue to deepen that understanding of consecration to Our Lady with more contemporary writings from St. Maximillian Kolbe, Blessed John Paul II and Blessed Mother Teresa of Calcutta. The book is divided into 33 short, daily reflections with a couple of appendices at the back to cover choosing the day of Consecration, the Consecration formula and ways to live out your Consecration, as well as locations of Marian shrines throughout the US and the World. There is also a free iOS4 application, called
"Mary"
, for your iPod, iPhone and iPad that gives you all of the appendix information and much more. I downloaded the app and use it often.
Touted as more up-to-date and easier to follow for modern audiences, I thought this formation program might be a good fit for me with my limited understanding of our relationship, as Catholics, with Mary. But, as I began to read, I found more questions than answers. Though all of the basic elements were there, and the book seemed to deliver what it promised, I felt like there was something missing.
What I was left wanting was more of the primary sources used as the foundation of the book. Fr. Gaitley did a nice job of unpacking the meanings of the writings left behind by these holy people, but I felt cheated by the short sound bite-style pieces of the primary sources. In some places it really felt like a New York Times article, where you only get to hear what the reporter and editor want you to hear.
In addition, some of the commentary ended up trivializing (for me, at least) some of the greatest theological writing surrounding the Blessed Virgin with Fr. Gaitley's more home-spun language set. However, in fairness, this is a personal taste issue for me. I can understand why he adopted a more casual tone. His easy manner draws you into a sort of family-style sense or "we're all in this together". I suppose that's a good thing in our culture of fast food and cable TV.
Ultimately, I chose not to finalize my consecration when I finished "33 Days to Morning Glory". I really felt like I needed more information and more formation before I felt comfortable turning my life over to the Blessed Mother, and by consequence, to Jesus. Consecration is not a commitment to be entered into lightly. When you consecrate your life to the service of Our Lady and Jesus, you are no longer your own, by St. Louis de Monfort's reckoning. After a great deal of prayer and reflection, and consultation with my pastor I ended up seeking out more of the primary material from St. Maximillian Kolbe and enrolled in the
Militia Immaculata
after the additional nine day formation required for that consecration.
All in all, I thought that "33 Days to Morning Glory" was a great place to start, if you know nothing about Marian Consecration. But, I believe that those seeking a more complete understanding of Marian devotion would be better served by reading more of the writings that were Fr. Gaitley's inspiration. I also suggest working with a priest while working on formation. That way, if you have questions (and you probably will) you can ask for guidance.